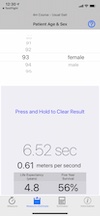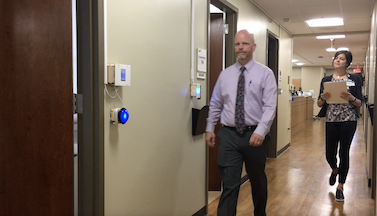 The GaitRate Tools consist of an iOS app and a wall-mount system that were developed to research how clinicians, home healthcare provider staff, and rehabilitation therapists prefer to measure walking speed, or gait speed, in their everyday practice.
For years, researchers have recognized walking speed (or gait speed) as an important measure of physical ability, or functional ability, to understand how function changes with aging or changes in health; however, walking speed has not been adopted broadly by everyday healthcare providers to track changes in physical ability between patient visits.
The GaitRate iOS App is a handheld replacement for the traditional stopwatch method of gait speed measurement typically used in home visit assessments and research studies. The app returns a calculated gait speed measurement and survival estimates for older patients (65-95), based on published research. The GaitRate App is being released to the Apple AppStore to provide these professionals with a tool to easily measure short-distance gait speed in their practice and compare the results against the published norms. More Information on the GaitRate iOS App.
The GaitRate Wall-Mount System (patent pending) was developed to allow an easy and reproducible measurement of gait speed in clinics and hospital settings, where a permanent installation is possible. While the system can be used to measure short-distance courses of 3 meters to 5 meters,  a 4-meter course with acceleration and deceleration zones is recommended to allow comparison against the survival estimates provided in published research. This system is currently protected under a provisional patent. We are currently seeking industry partners interested in this solution or our findings. If you would like to learn more about this system, please Contact Us.